Company
Company Name

MUSCLE CORPORATION

President

Hirofumi Tamai

Established

26th May 1988

Capital Amount

JPY 11,100,000-

Business

Control System for FA Machines, Robots, Medical Equipments and etc.
Company Philosophy
OUR FLEXIBLE IDEAS AND TECHNOLOGIES
CAN REALIZE DREAMS
Vision
1.LITHE MOTION CONTROL LIKE HUMAN MUSCLE
As human muscle
We aim at motion control that can be strong, sensitive and smooth.
2.NO CHALLENGE, NO SUCCESS
We value a spirit to seek a possibility and reach the answer as a professional without thinking of reason why it is impossible.
3.OUR CONCEPT IS "COOL / SIMPLE / MINIATURIZATION"
Cool

Cool and sophisticated

Simple

Simple as simple

Miniaturization

Miniaturize a manufacturing and company
History
1988

Established as a motor control development company for industrial robots

1994

Certified as an investment trust by the Osaka Prefectural Research and Development Enterprise Promotion Foundation

1998

Obtained FDA (US Food and Drug Administration) approval and started direct export to major US medical device companies the year of 2000
Integrated Servo System "Cool Muscle" Launched in Japan, North America, and Europe

2001~

Started sales in South Korea, Singapore, Taiwan, Thailand, and China

2007

Established research base "Muscle Lab Canada" in Toronto, Canada

2010

Shanghai Expo Japan Industry Pavilion "YUME ROBO" developed and exhibited *The world's first humanoid robot capable of vertical movement

2013

Prime Minister Abe visited our company

From 2013

Ministry of Economy, Trade and Industry industrial technology research and development project expenses (development and introduction of robot care equipment) subsidy adopted
Developed ROBOHELPER SASUKE with subsidy over 3 years

2014

Selected by the Ministry of Economy, Trade and Industry as one of the best performing ("Ganbaru") 300 small and medium-sized companies.
Bank of Japan Governor Kuroda visited our company

2016

Nursing care robot "ROBOHELPER SASUKE" launched in Japan

2019

Robot performance at the G20 VIP reception, nursing care robot exhibition at the media center, and cooperation in embroidering event costumes for the spouse program
Global Network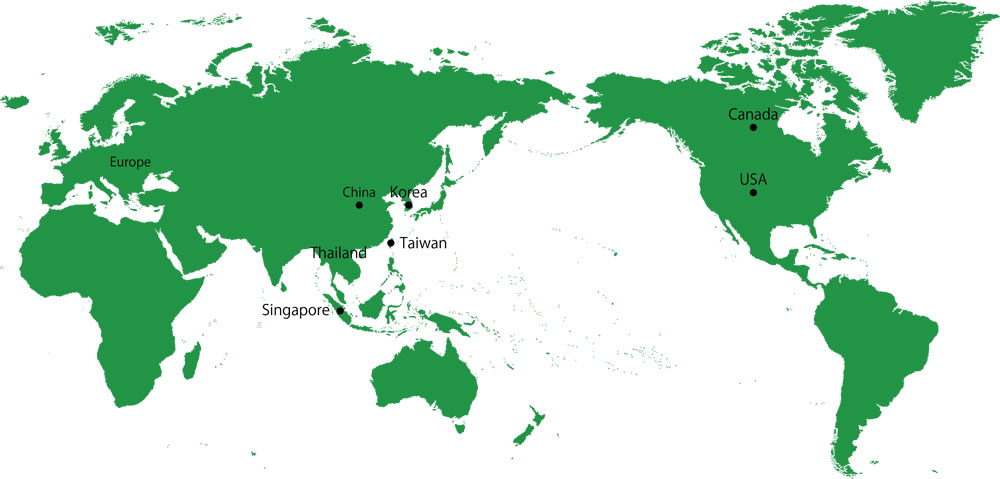 Location
Head Office
6F Tradepia Yodoyabashi, 2-5-8 Imabashi, Chuo-ku, Osaka, 541-0042, Japan
TEL : +81-6-6229-9550
FAX : +81-6-6229-9560
E-mail : info@musclecorp.com
●4 min from Subway Midousuji line, Keihan Main line "Yodoyabashi"station on foot
●4 min from Subway Sakaisuji line, Keihan Main line"Kitahama"station on foot
Nagoya Branch
2145-1, Higashitanakamukouyama Komaki-city, Aichi 485-0826, Japan
TEL : +81-568-75-0427
FAX : +81-568-75-3139
●10 min from Meitetsu Komaki line "Komakihara" station by tax
●20 min from Meitetsu Inuyama line "Iwakura" station by taxi
20 min from JR "Kasugai" station by taxi
15 min from Meishin highway "Komaki Interchange"
Muscle Lab Canada Inc.
uscle Lab Canada Inc. is a subsidiary R&D company of Muscle Corporation, founded in 2007, located in Toronto, ON, Canada. Muscle Lab Canada Inc. focuses on the R&D of automation products, including fully automated pipette for ANAEX (Automated Nucleic acid extraction) and the CM1, CM2 and CM3 integrated servo systems. Since 2016, Muscle Lab Canada Inc. has started to sell Muscle products in Chinese Market.
Muscle Lab Canada Inc.
30 West Beaver Road, Unit 110, Richmond Hill, ON, L4B 3K1
Toronto, Canada
TEL : +1-905-475-1343
FAX : +1-905-475-2356
E-mail : MAIL: zane@musclelabcorp.com
MUSCLE ROBOTICS, INC
Related Marketing Company
MUSCLE ROBOTICS, INC
3080 OLCOTT STREET, SUITE 105-B,
Santa Clara, CA 95054
San Jose, USA