Best suitable gearbox for COOL MUSCLE is available from a variety of sizes and reduction ratio variations and product lineup.
Gearbox series with the COOL MUSCLE (Cool Muscle Gear) of maximize performance. It' s greater availability of using these gears with compact, high torque, high accuracy, quick delivery and low cost for your system design.The Gearbox is made by Apex Dynamics.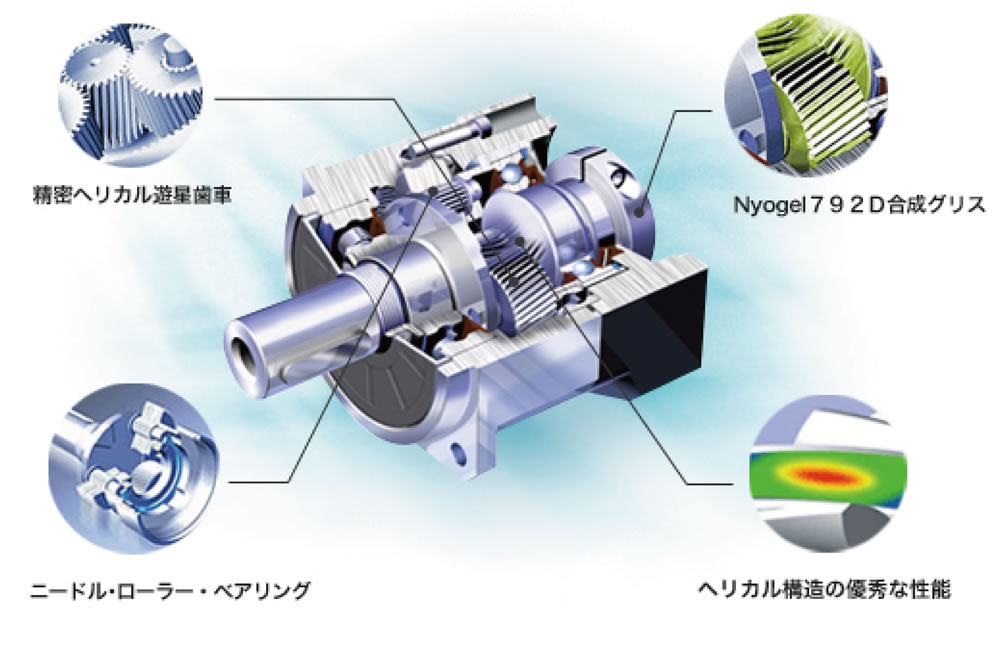 specification
* The Conjunction Plate is necessary for CM1-11L/S or CM1-17L/S, CM3-17L/S size. Please order Cool Muscle, Cool Muscle Gear and the Conjunction Plate together.
Applicable Chart
Motor size□28
Reducation
ratio
CM-AB042
CM-AB060
CM-ABR042
1-stage
reducation
ratio
3
◯
-
◯
4
◯
-
◯
5
◯
-
◯
6
◯
-
◯
7
◯
-
◯
8
◯
-
◯
9
◯
-
◯
10
◯
-
◯
2-stage
reducation
ratio
15
◯
◯
◯
20
◯
◯
◯
25
◯
◯
◯
30
◯
◯
◯
35
◯
◯
◯
40
◯
◯
◯
45
◯
◯
◯
50
◯
◯
◯
60
◯
◯
◯
70
◯
◯
◯
80
◯
◯
◯
90
◯
◯
◯
100
◯
◯
◯
Reducation
ratio
CM-ABR060
1-stage
reducation
ratio
3
-
4
-
5
-
6
-
7
-
8
-
9
-
10
-
15
-
20
-
2-stage
reducation
ratio
25
◯
30
◯
35
◯
40
◯
45
◯
50
◯
60
◯
70
◯
80
◯
90
◯
100
◯
Reducation
ratio
CM-PA2042
CM-PA2060
1-stage
reducation
ratio
3
◯
-
4
◯
-
5
◯
-
7
◯
-
9
◯
-
10
◯
-
2-stage
reducation
ratio
15
◯
-
16
◯
-
20
◯
-
25
◯
-
30
◯
-
35
◯
-
40
◯
-
50
◯
-
70
◯
-
81
◯
-
100
◯
-
Reducation
ratio
CM-AB042
CM-AB060
CM-ABR042
1-stage
reducation
ratio
3
◯
-
◯
4
◯
-
◯
5
◯
-
◯
6
◯
-
◯
7
◯
-
◯
8
◯
-
◯
9
◯
-
◯
10
◯
-
◯
2-stage
reducation
ratio
15
◯
◯
◯
20
◯
◯
◯
25
◯
◯
◯
30
◯
◯
◯
35
◯
◯
◯
40
◯
◯
◯
45
◯
◯
◯
50
◯
◯
◯
60
◯
◯
◯
70
◯
◯
◯
80
◯
◯
◯
90
◯
◯
◯
100
◯
◯
◯
Reducation
ratio
CM-ABR060
1-stage
reducation
ratio
3
-
4
-
5
-
6
-
7
-
8
-
9
-
10
-
15
-
20
-
2-stage
reducation
ratio
25
◯
30
◯
35
◯
40
◯
45
◯
50
◯
60
◯
70
◯
80
◯
90
◯
100
◯
Reducation
ratio
CM-PA2042
CM-PA2060
1-stage
reducation
ratio
3
◯
◯
4
◯
◯
5
◯
◯
7
◯
◯
9
◯
◯
10
◯
◯
2-stage
reducation
ratio
15
◯
◯
16
◯
◯
20
◯
◯
25
◯
◯
30
◯
◯
35
◯
◯
40
◯
◯
50
◯
◯
70
◯
◯
81
◯
◯
100
◯
◯
Motor size□42
Reducation
ratio
CM-AB042
CM-AB060
CM-ABR042
1-stage
reducation
ratio
3
◯
-
◯
4
◯
-
◯
5
◯
-
◯
6
◯
-
◯
7
◯
-
◯
8
◯
-
◯
9
◯
-
◯
10
◯
-
◯
2-stage
reducation
ratio
15
◯
◯
◯
20
◯
◯
◯
25
◯
◯
◯
30
◯
◯
◯
35
◯
◯
◯
40
◯
◯
◯
45
◯
◯
◯
50
◯
◯
◯
60
◯
◯
◯
70
◯
◯
◯
80
◯
◯
◯
90
◯
◯
◯
100
◯
◯
◯
Reducation
ratio
CM-ABR060
1-stage
reducation
ratio
3
-
4
-
5
-
6
-
7
-
8
-
9
-
10
-
15
-
20
-
2-stage
reducation
ratio
25
◯
30
◯
35
◯
40
◯
45
◯
50
◯
60
◯
70
◯
80
◯
90
◯
100
◯
Reducation
ratio
CM-PA2042
CM-PA2060
1-stage
reducation
ratio
3
◯
◯
4
◯
◯
5
◯
◯
7
◯
◯
9
◯
◯
10
◯
◯
2-stage
reducation
ratio
15
◯
◯
16
◯
◯
20
◯
◯
25
◯
◯
30
◯
◯
35
◯
◯
40
◯
◯
50
◯
◯
70
◯
◯
81
◯
◯
100
◯
◯
Reducation
ratio
CM-AB042
CM-AB060
CM-ABR042
1-stage
reducation
ratio
3
◯
-
◯
4
◯
-
◯
5
◯
-
◯
6
◯
-
◯
7
◯
-
◯
8
◯
-
◯
9
◯
-
◯
10
◯
-
◯
2-stage
reducation
ratio
15
◯
◯
◯
20
◯
◯
◯
25
◯
◯
◯
30
◯
◯
◯
35
◯
◯
◯
40
◯
◯
◯
45
△
◯
△
50
◯
◯
-
60
△
◯
△
70
-
◯
-
80
-
◯
-
90
-
◯
-
100
-
◯
-
Reducation
ratio
CM-ABR060
1-stage
reducation
ratio
3
-
4
-
5
-
6
-
7
-
8
-
9
-
10
-
15
-
20
-
2-stage
reducation
ratio
25
◯
30
◯
35
◯
40
◯
45
◯
50
◯
60
◯
70
◯
80
◯
90
◯
100
◯
Reducation
ratio
CM-PA2042
CM-PA2060
1-stage
reducation
ratio
3
◯
◯
4
◯
◯
5
◯
◯
7
◯
◯
9
◯
◯
10
◯
◯
2-stage
reducation
ratio
15
◯
◯
16
◯
◯
20
◯
◯
25
◯
◯
30
◯
◯
35
△
◯
40
◯
◯
50
△
◯
70
-
◯
81
-
△
100
-
-
Reducation
ratio
CM-AB042
CM-AB060
CM-ABR042
Reducation
ratio
3
◯
-
◯
4
◯
-
◯
5
◯
-
◯
6
◯
-
◯
7
◯
-
◯
8
◯
-
◯
9
◯
-
◯
10
◯
-
◯
2-stage
reducation
ratio
15
◯
◯
◯
20
◯
◯
◯
25
◯
◯
◯
30
◯
◯
◯
35
◯
◯
◯
40
◯
◯
◯
45
◯
◯
◯
50
◯
◯
◯
60
◯
◯
◯
70
◯
◯
◯
80
△
◯
△
90
△
◯
△
100
△
◯
△
Reducation
ratio
CM-ABR060
Reducation
ratio
3
-
4
-
5
-
6
-
7
-
8
-
9
-
10
-
15
-
20
-
2-stage
reducation
ratio
25
◯
30
◯
35
◯
40
◯
45
◯
50
◯
60
◯
70
◯
80
◯
90
◯
100
◯
Reducation
ratio
CM-PA2042
CM-PA2060
Reducation
ratio
3
◯
-
4
◯
-
5
◯
-
7
◯
-
9
◯
-
10
◯
-
2-stage
reducation
ratio
15
◯
◯
16
◯
◯
20
◯
◯
25
◯
◯
30
◯
◯
35
◯
◯
40
◯
◯
50
◯
◯
70
△
◯
81
△
◯
100
△
◯
Reducation
ratio
CM-AB042
CM-AB060
CM-ABR042
1-stage
reducation
ratio
3
◯
-
◯
4
◯
-
◯
5
◯
-
◯
6
◯
-
◯
7
◯
-
◯
8
◯
-
◯
9
◯
-
◯
10
◯
-
◯
2-stage
reducation
ratio
15
◯
◯
◯
20
◯
◯
◯
25
◯
◯
◯
30
◯
◯
◯
35
◯
◯
◯
40
◯
◯
◯
45
△
◯
△
50
◯
◯
△
60
△
◯
△
70
△
◯
△
80
△
◯
△
90
△
◯
△
100
△
△
△
Reducation
ratio
CM-ABR060
1-stage
reducation
ratio
3
-
4
-
5
-
6
-
7
-
8
-
9
-
10
-
15
-
20
-
2-stage
reducation
ratio
25
◯
30
◯
35
◯
40
◯
45
◯
50
◯
60
◯
70
◯
80
◯
90
◯
100
△
Reducation
ratio
CM-PA2042
CM-PA2060
1-stage
reducation
ratio
3
◯
-
4
◯
-
5
◯
-
7
◯
-
9
◯
-
10
◯
-
2-stage
reducation
ratio
15
◯
◯
16
◯
◯
20
◯
◯
25
◯
◯
30
◯
◯
35
△
◯
40
△
◯
50
△
◯
70
△
◯
81
△
△
100
△
△
Reducation
ratio
CM-AB042
CM-AB060
CM-ABR042
1-stage
reducation
ratio
3
◯
-
◯
4
◯
-
◯
5
◯
-
◯
6
◯
-
◯
7
◯
-
◯
8
◯
-
◯
9
◯
-
◯
10
◯
-
◯
2-stage
reducation
ratio
15
◯
◯
◯
20
◯
◯
◯
25
◯
◯
◯
30
◯
◯
◯
35
◯
◯
◯
40
◯
◯
◯
45
◯
◯
◯
50
◯
◯
◯
60
◯
◯
◯
70
◯
◯
◯
80
△
◯
△
90
△
◯
△
100
△
◯
△
Reducation
ratio
CM-ABR060
1-stage
reducation
ratio
3
-
4
-
5
-
6
-
7
-
8
-
9
-
10
-
15
-
20
-
2-stage
reducation
ratio
25
◯
30
◯
35
◯
40
◯
45
◯
50
◯
60
◯
70
◯
80
◯
90
◯
100
◯
Reducation
ratio
CM-PA2042
CM-PA2060
1-stage
reducation
ratio
3
◯
-
4
◯
-
5
◯
-
7
◯
-
9
◯
-
10
◯
-
2-stage
reducation
ratio
15
◯
◯
16
◯
◯
20
◯
◯
25
◯
◯
30
◯
◯
35
◯
◯
40
◯
◯
50
◯
◯
70
△
◯
81
△
◯
100
△
◯
Reducation
ratio
CM-AB042
CM-AB060
CM-ABR042
1-stage
reducation
ratio
3
◯
-
◯
4
◯
-
◯
5
◯
-
◯
6
◯
-
◯
7
◯
-
◯
8
◯
-
◯
9
◯
-
◯
10
◯
-
◯
2-stage
reducation
ratio
15
◯
◯
◯
20
◯
◯
◯
25
◯
◯
◯
30
◯
◯
◯
35
◯
◯
◯
40
◯
◯
◯
45
△
◯
△
50
◯
◯
△
60
△
◯
△
70
△
◯
△
80
△
◯
△
90
△
◯
△
100
△
△
△
Reducation
ratio
CM-ABR060
1-stage
reducation
ratio
3
-
4
-
5
-
6
-
7
-
8
-
9
-
10
-
15
-
20
-
2-stage
reducation
ratio
25
◯
30
◯
35
◯
40
◯
45
◯
50
◯
60
◯
70
◯
80
◯
90
◯
100
△
Reducation
ratio
CM-PA2042
CM-PA2060
1-stage
reducation
ratio
3
◯
-
4
◯
-
5
◯
-
7
◯
-
9
◯
-
10
◯
-
2-stage
reducation
ratio
15
◯
◯
16
◯
◯
20
◯
◯
25
◯
◯
30
◯
◯
35
△
◯
40
△
◯
50
△
◯
70
△
◯
81
△
△
100
△
△
Motor size□56
Reducation
ratio
CM-AB042
CM-AB060
CM-ABR042
1-stage
reducation
ratio
3
◯
◯
◯
4
◯
◯
◯
5
◯
◯
◯
6
◯
◯
◯
7
◯
◯
◯
8
◯
◯
◯
9
◯
◯
◯
10
◯
◯
◯
2-stage
reducation
ratio
15
◯
◯
◯
20
◯
◯
◯
25
◯
◯
◯
30
◯
◯
◯
35
◯
◯
◯
40
◯
◯
◯
45
◯
◯
◯
50
◯
◯
△
60
◯
◯
◯
70
△
◯
△
80
-
◯
-
90
-
◯
-
100
-
◯
-
Reducation
ratio
CM-ABR060
1-stage
reducation
ratio
3
◯
4
◯
5
◯
6
◯
7
◯
8
◯
9
◯
10
◯
15
◯
20
◯
2-stage
reducation
ratio
25
◯
30
◯
35
◯
40
◯
45
◯
50
◯
60
◯
70
◯
80
◯
90
◯
100
◯
Reducation
ratio
CM-PA2042
CM-PA2060
1-stage
reducation
ratio
3
◯
◯
4
◯
◯
5
◯
◯
7
◯
◯
9
◯
◯
10
◯
◯
2-stage
reducation
ratio
15
◯
◯
16
◯
◯
20
◯
◯
25
◯
◯
30
◯
◯
35
◯
◯
40
◯
◯
50
◯
◯
70
-
◯
81
-
◯
100
-
△
Reducation
ratio
CM-AB042
CM-AB060
CM-ABR042
1-stage
reducation
ratio
3
◯
◯
◯
4
◯
◯
◯
5
◯
◯
◯
6
◯
◯
◯
7
◯
◯
◯
8
◯
◯
◯
9
◯
◯
◯
10
◯
◯
◯
2-stage
reducation
ratio
15
◯
◯
◯
20
◯
◯
△
25
◯
◯
-
30
-
◯
-
35
-
◯
-
40
-
◯
-
45
-
◯
-
50
-
◯
-
60
-
◯
-
70
-
△
-
80
-
-
-
90
-
-
-
100
-
-
-
Reducation
ratio
CM-ABR060
1-stage
reducation
ratio
3
◯
4
◯
5
◯
6
◯
7
◯
8
◯
9
◯
10
◯
15
◯
20
◯
2-stage
reducation
ratio
25
◯
30
◯
35
◯
40
◯
45
◯
50
◯
60
◯
70
△
80
-
90
-
100
-
Reducation
ratio
CM-PA2042
CM-PA2060
1-stage
reducation
ratio
3
◯
◯
4
◯
◯
5
◯
◯
7
◯
◯
9
◯
◯
10
◯
◯
2-stage
reducation
ratio
15
◯
◯
16
◯
◯
20
△
◯
25
-
◯
30
-
◯
35
-
◯
40
-
◯
50
-
△
70
-
-
81
-
-
100
-
-
Reducation
ratio
CM-AB042
CM-AB060
CM-ABR042
1-stage
reducation
ratio
3
◯
◯
◯
4
◯
◯
◯
5
◯
◯
◯
6
◯
◯
◯
7
◯
◯
◯
8
◯
◯
◯
9
◯
◯
◯
10
◯
◯
◯
2-stage
reducation
ratio
15
◯
◯
◯
20
◯
◯
◯
25
◯
◯
◯
30
◯
◯
◯
35
◯
◯
◯
40
◯
◯
◯
45
△
◯
△
50
◯
◯
△
60
◯
◯
◯
70
△
◯
△
80
△
◯
△
90
-
◯
-
100
-
◯
-
Reducation
ratio
CM-ABR060
1-stage
reducation
ratio
3
◯
4
◯
5
◯
6
◯
7
◯
8
◯
9
◯
10
◯
15
◯
20
◯
2-stage
reducation
ratio
25
◯
30
◯
35
◯
40
◯
45
◯
50
◯
60
◯
70
◯
80
◯
90
◯
100
◯
Reducation
ratio
CM-PA2042
CM-PA2060
1-stage
reducation
ratio
3
◯
◯
4
◯
◯
5
◯
◯
7
◯
◯
9
◯
◯
10
◯
◯
2-stage
reducation
ratio
15
◯
◯
16
◯
◯
20
◯
◯
25
◯
◯
30
◯
◯
35
◯
◯
40
◯
◯
50
△
◯
70
-
◯
81
-
△
100
-
△
Reducation
ratio
CM-AB042
CM-AB060
CM-ABR042
1-stage
reducation
ratio
3
◯
◯
◯
4
◯
◯
◯
5
◯
◯
◯
6
◯
◯
◯
7
◯
◯
◯
8
◯
◯
◯
9
◯
◯
◯
10
◯
◯
◯
2-stage
reducation
ratio
15
◯
◯
◯
20
◯
◯
◯
25
◯
◯
△
30
◯
◯
◯
35
△
◯
△
40
△
◯
△
45
-
◯
-
50
△
◯
-
60
△
◯
△
70
-
◯
-
80
-
△
-
90
-
△
-
100
-
△
-
Reducation
ratio
CM-ABR060
1-stage
reducation
ratio
3
◯
4
◯
5
◯
6
◯
7
◯
8
◯
9
◯
10
◯
15
◯
20
◯
2-stage
reducation
ratio
25
◯
30
◯
35
◯
40
◯
45
◯
50
◯
60
◯
70
◯
80
△
90
△
100
△
Reducation
ratio
CM-PA2042
CM-PA2060
1-stage
reducation
ratio
3
◯
◯
4
◯
◯
5
◯
◯
7
◯
◯
9
◯
◯
10
◯
◯
2-stage
reducation
ratio
15
◯
◯
16
◯
◯
20
◯
◯
25
△
◯
30
△
◯
35
△
◯
40
△
◯
50
-
◯
70
-
△
81
-
-
100
-
-
Reducation
ratio
CM-AB042
CM-AB060
CM-ABR042
Reducation
ratio
3
◯
-
◯
4
◯
-
◯
5
◯
-
◯
6
◯
-
◯
7
◯
-
◯
8
◯
-
◯
9
◯
-
◯
10
◯
-
◯
2-stage
reducation
ratio
15
◯
◯
◯
20
◯
◯
◯
25
◯
◯
◯
30
◯
◯
◯
35
◯
◯
◯
40
◯
◯
◯
45
△
◯
△
50
◯
◯
△
60
△
◯
△
70
△
◯
△
80
△
◯
△
90
△
◯
△
100
△
◯
△
Reducation
ratio
CM-ABR060
Reducation
ratio
3
-
4
-
5
-
6
-
7
-
8
-
9
-
10
-
15
-
20
-
2-stage
reducation
ratio
25
◯
30
◯
35
◯
40
◯
45
◯
50
◯
60
◯
70
◯
80
◯
90
◯
100
◯
Reducation
ratio
CM-PA2042
CM-PA2060
Reducation
ratio
3
◯
-
4
◯
-
5
◯
-
7
◯
-
9
◯
-
10
◯
-
2-stage
reducation
ratio
15
◯
◯
16
◯
◯
20
◯
◯
25
◯
◯
30
◯
◯
35
△
◯
40
◯
◯
50
△
◯
70
△
◯
81
△
△
100
△
△
Reducation
ratio
CM-AB042
CM-AB060
CM-ABR042
Reducation
ratio
3
◯
-
◯
4
◯
-
◯
5
◯
-
◯
6
◯
-
◯
7
◯
-
◯
8
◯
-
◯
9
◯
-
◯
10
◯
-
◯
2-stage
reducation
ratio
15
◯
◯
△
20
△
◯
△
25
△
◯
△
30
△
◯
△
35
△
◯
△
40
△
△
△
45
△
△
△
50
△
△
△
60
△
△
△
70
△
△
△
80
△
△
△
90
△
△
△
100
△
△
△
Reducation
ratio
CM-ABR060
Reducation
ratio
3
-
4
-
5
-
6
-
7
-
8
-
9
-
10
-
15
-
20
-
2-stage
reducation
ratio
25
◯
30
◯
35
◯
40
△
45
△
50
◯
60
△
70
△
80
△
90
△
100
△
Reducation
ratio
CM-PA2042
CM-PA2060
Reducation
ratio
3
◯
-
4
◯
-
5
◯
-
7
◯
-
9
△
-
10
△
-
2-stage
reducation
ratio
15
△
◯
16
△
◯
20
△
◯
25
△
◯
30
△
◯
35
△
△
40
△
△
50
△
△
70
△
△
81
△
△
100
△
△
Reducation
ratio
CM-AB042
CM-AB060
CM-ABR042
1-stage
reducation
ratio
3
◯
-
◯
4
◯
-
◯
5
◯
-
◯
6
◯
-
◯
7
◯
-
◯
8
◯
-
◯
9
◯
-
◯
10
◯
-
◯
2-stage
reducation
ratio
15
◯
◯
◯
20
◯
◯
◯
25
◯
◯
◯
30
◯
◯
◯
35
◯
◯
◯
40
◯
◯
◯
45
△
◯
△
50
◯
◯
△
60
△
◯
△
70
△
◯
△
80
△
◯
△
90
△
◯
△
100
△
◯
△
Reducation
ratio
CM-ABR060
1-stage
reducation
ratio
3
-
4
-
5
-
6
-
7
-
8
-
9
-
10
-
15
-
20
-
2-stage
reducation
ratio
25
◯
30
◯
35
◯
40
◯
45
◯
50
◯
60
◯
70
◯
80
◯
90
◯
100
◯
Reducation
ratio
CM-PA2042
CM-PA2060
1-stage
reducation
ratio
3
◯
-
4
◯
-
5
◯
-
7
◯
-
9
◯
-
10
◯
-
2-stage
reducation
ratio
15
◯
◯
16
◯
◯
20
◯
◯
25
◯
◯
30
◯
◯
35
△
◯
40
◯
◯
50
△
◯
70
△
◯
81
△
△
100
△
△
Reducation
ratio
CM-AB042
CM-AB060
CM-ABR042
1-stage
reducation
ratio
3
◯
-
◯
4
◯
-
◯
5
◯
-
◯
6
◯
-
◯
7
◯
-
◯
8
◯
-
◯
9
◯
-
◯
10
◯
-
◯
2-stage
reducation
ratio
15
◯
◯
△
20
△
◯
△
25
△
◯
△
30
△
◯
△
35
△
◯
△
40
△
△
△
45
△
△
△
50
△
△
△
60
△
△
△
70
△
△
△
80
△
△
△
90
△
△
△
100
△
△
△
Reducation
ratio
CM-ABR060
1-stage
reducation
ratio
3
-
4
-
5
-
6
-
7
-
8
-
9
-
10
-
15
-
20
-
2-stage
reducation
ratio
25
◯
30
◯
35
◯
40
△
45
△
50
◯
60
△
70
△
80
△
90
△
100
△
Reducation
ratio
CM-PA2042
CM-PA2060
1-stage
reducation
ratio
3
◯
-
4
◯
-
5
◯
-
7
◯
-
9
△
-
10
△
-
2-stage
reducation
ratio
15
△
◯
16
△
◯
20
△
◯
25
△
◯
30
△
◯
35
△
△
40
△
△
50
△
△
70
△
△
81
△
△
100
△
△
Motor size□60
Reducation
ratio
CM-AB042
CM-AB060
CM-ABR042
1-stage
reducation
ratio
3
◯
◯
◯
4
◯
◯
◯
5
◯
◯
◯
6
◯
◯
◯
7
◯
◯
◯
8
◯
◯
◯
9
◯
◯
◯
10
◯
◯
◯
2-stage
reducation
ratio
15
◯
◯
◯
20
◯
◯
◯
25
◯
◯
◯
30
◯
◯
◯
35
◯
◯
◯
40
△
◯
△
45
-
◯
-
50
△
◯
-
60
△
◯
△
70
-
◯
-
80
-
◯
-
90
-
△
-
100
-
△
-
Reducation
ratio
CM-ABR060
1-stage
reducation
ratio
3
◯
4
◯
5
◯
6
◯
7
◯
8
◯
9
◯
10
◯
15
◯
20
◯
2-stage
reducation
ratio
25
◯
30
◯
35
◯
40
◯
45
◯
50
◯
60
◯
70
◯
80
◯
90
△
100
△
Reducation
ratio
CM-PA2042
CM-PA2060
1-stage
reducation
ratio
3
◯
◯
4
◯
◯
5
◯
◯
7
◯
◯
9
◯
◯
10
◯
◯
2-stage
reducation
ratio
15
◯
◯
16
◯
◯
20
◯
◯
25
◯
◯
30
△
◯
35
△
◯
40
△
◯
50
-
◯
70
-
△
81
-
-
100
-
-
Reducation
ratio
CM-AB042
CM-AB060
CM-ABR042
1-stage
reducation
ratio
3
◯
◯
◯
4
◯
◯
◯
5
◯
◯
◯
6
◯
◯
◯
7
◯
◯
◯
8
◯
◯
◯
9
◯
◯
◯
10
◯
◯
◯
2-stage
reducation
ratio
15
◯
◯
△
20
△
◯
△
25
△
◯
-
30
△
◯
△
35
-
◯
-
40
-
◯
-
45
-
△
-
50
-
◯
-
60
-
△
-
70
-
△
-
80
-
-
-
90
-
-
-
100
-
-
-
Reducation
ratio
CM-ABR060
1-stage
reducation
ratio
3
◯
4
◯
5
◯
6
◯
7
◯
8
◯
9
◯
10
◯
15
◯
20
◯
2-stage
reducation
ratio
25
◯
30
◯
35
◯
40
◯
45
△
50
◯
60
△
70
△
80
-
90
-
100
-
Reducation
ratio
CM-PA2042
CM-PA2060
1-stage
reducation
ratio
3
◯
◯
4
◯
◯
5
◯
◯
7
◯
◯
9
△
◯
10
△
◯
2-stage
reducation
ratio
15
△
◯
16
△
◯
20
△
◯
25
-
◯
30
-
◯
35
-
△
40
-
◯
50
-
△
70
-
-
81
-
-
100
-
-
Reducation
ratio
CM-AB042
CM-AB060
CM-ABR042
1-stage
reducation
ratio
3
-
◯
-
4
-
◯
-
5
-
◯
-
6
-
◯
-
7
-
◯
-
8
-
◯
-
9
-
◯
-
10
-
◯
-
2-stage
reducation
ratio
15
-
-
-
20
-
-
-
25
-
-
-
30
-
-
-
35
-
-
-
40
-
-
-
45
-
-
-
50
-
-
-
60
-
-
-
70
-
-
-
80
-
-
-
90
-
-
-
100
-
-
-
Reducation
ratio
CM-ABR060
1-stage
reducation
ratio
3
◯
4
◯
5
◯
6
◯
7
◯
8
◯
9
◯
10
◯
15
◯
20
△
2-stage
reducation
ratio
25
-
30
-
35
-
40
-
45
-
50
-
60
-
70
-
80
-
90
-
100
-
Reducation
ratio
CM-PA2042
CM-PA2060
1-stage
reducation
ratio
3
◯
◯
4
◯
◯
5
◯
◯
7
△
◯
9
-
◯
10
-
◯
2-stage
reducation
ratio
15
-
◯
16
-
◯
20
-
△
25
-
△
30
-
△
35
-
-
40
-
-
50
-
-
70
-
-
81
-
-
100
-
-
Model number
Size
(designation)
Stage
Reducation ratio
Reduced
Backlash
Nominal
Output
Torque
Max.
Output
Torque
Maximum
allowable input
speed
Torsional
Rigidity
Max. Radial Load
(Applied to the
output shaft center)
Max. Axial Load
(Applied to the
output shaft center)
Approximate
weight
Mass Moments
of inertia
Ambient
temperature
Lubrication
Type
Degree of
Gearbox
Protection
Mounting
method
Noise
n1=3000rpm
arc/min
Nm
Nm
rpm
NM/arcm in
N
N
kg
kg・cm2
dB
CM-AB042-003-S□-P□
42
1
3
P1(precision type)
3
P2(precision type)
5
20
36
5,000
3
780
390
0.6
0.03
-10~40℃
Grease
(NYOGEL
792D)
IP65
Freely
56 or less
CM-AB042-004-S□-P□
4
19
34
CM-AB042-005-S□-P□
5
22
39
CM-AB042-006-S□-P□
6
20
36
CM-AB042-007-S□-P□
7
19
34
CM-AB042-008-S□-P□
8
17
30
CM-AB042-009-S□-P□
9
14
25
CM-AB042-010-S□-P□
10
14
25
CM-AB042-015-S□-P□
2
15
P1(precision type)
5
P2(precision type)
7
20
36
0.8
0.03
CM-AB042-020-S□-P□
20
19
34
CM-AB042-025-S□-P□
25
22
39
CM-AB042-030-S□-P□
30
20
36
CM-AB042-035-S□-P□
35
19
34
CM-AB042-040-S□-P□
40
17
30
CM-AB042-045-S□-P□
45
14
25
CM-AB042-050-S□-P□
50
22
39
CM-AB042-060-S□-P□
60
20
36
CM-AB042-070-S□-P□
70
19
34
CM-AB042-080-S□-P□
80
17
30
CM-AB042-090-S□-P□
90
14
25
CM-AB042-100-S□-P□
100
14
25
Model number
Size
(designation)
Stage
Reducation ratio
Reduced
Backlash
Nominal
Output
Torque
Max.
Output
Torque
Maximum
allowable input
speed
Torsional
Rigidity
Max. Radial Load
(Applied to the
output shaft center)
Max. Axial Load
(Applied to the
output shaft center)
Approximate
weight
Mass Moments
of inertia
Ambient
temperature
Lubrication
Type
Degree of
Gearbox
Protection
Mounting
method
Noise
n1=3000rpm
arc/min
Nm
Nm
rpm
NM/arcm in
N
N
kg
kg・cm2
dB
CM-AB060-003-S□-P□
60
1
3
P1(precision type)
3
P2(precision type)
5
50
99
5,000
7
1,530
765
1.3
0.16
-10~40℃
Grease
(NYOGEL
792D)
IP65
Freely
58 or less
CM-AB060-004-S□-P□
4
50
90
0.14
CM-AB060-005-S□-P□
5
60
108
0.13
CM-AB060-006-S□-P□
6
55
99
CM-AB060-007-S□-P□
7
50
90
CM-AB060-008-S□-P□
8
45
81
CM-AB060-009-S□-P□
9
40
72
CM-AB060-010-S□-P□
10
40
72
CM-AB060-015-S□-P□
2
15
P1(precision type)
5
P2(precision type)
7
55
99
1.5
0.13
CM-AB060-020-S□-P□
20
50
90
CM-AB060-025-S□-P□
25
60
108
CM-AB060-030-S□-P□
30
55
99
CM-AB060-035-S□-P□
35
50
90
CM-AB060-040-S□-P□
40
45
81
CM-AB060-045-S□-P□
45
40
72
CM-AB060-050-S□-P□
50
60
108
CM-AB060-060-S□-P□
60
55
99
CM-AB060-070-S□-P□
70
50
90
CM-AB060-080-S□-P□
80
45
81
CM-AB060-090-S□-P□
90
40
72
CM-AB060-100-S□-P□
100
40
72
Model number
Size
(designation)
Stage
Reducation ratio
Reduced
Backlash
Nominal
Output
Torque
Max.
Output
Torque
Maximum
allowable input
speed
Torsional
Rigidity
Max. Radial Load
(Applied to the
output shaft center)
Max. Axial Load
(Applied to the
output shaft center)
Approximate
weight
Mass Moments
of inertia
Ambient
temperature
Lubrication
Type
Degree of
Gearbox
Protection
Mounting
method
Noise
n1=3000rpm
分
Nm
Nm
rpm
NM/arcm in
N
N
kg
kg・cm2
dB
CM-ABR042-003-S□-P□
42
1
3
P1(precision type)
4
P2(precision type)
7
9
16
5,000
3
780
390
0.9
0.09
-10~40℃
Grease
(NYOGEL
792D)
IP65
Freely
61 or less
CM-ABR042-004-S□-P□
4
12
21
CM-ABR042-005-S□-P□
5
15
27
CM-ABR042-006-S□-P□
6
18
32
CM-ABR042-007-S□-P□
7
19
34
CM-ABR042-008-S□-P□
8
17
30
CM-ABR042-009-S□-P□
9
14
25
CM-ABR042-010-S□-P□
10
14
25
CM-ABR042-015-S□-P□
15
14
25
CM-ABR042-020-S□-P□
20
14
25
CM-ABR042-025-S□-P□
2
25
P1(precision type)
6
P2(precision type)
9
15
27
1.2
0.09
CM-ABR042-030-S□-P□
30
20
36
CM-ABR042-035-S□-P□
35
19
34
CM-ABR042-040-S□-P□
40
17
30
CM-ABR042-045-S□-P□
45
14
25
CM-ABR042-050-S□-P□
50
14
25
CM-ABR042-060-S□-P□
60
20
36
CM-ABR042-070-S□-P□
70
19
34
CM-ABR042-080-S□-P□
80
17
30
CM-ABR042-090-S□-P□
90
14
25
CM-ABR042-100-S□-P□
100
14
25
Model number
Size
(designation)
Stage
Reducation ratio
Reduced
Backlash
Nominal
Output
Torque
Max.
Output
Torque
Maximum
allowable input
speed
Torsional
Rigidity
Max. Radial Load
(Applied to the
output shaft center)
Max. Axial Load
(Applied to the
output shaft center)
Approximate
weight
Mass Moments
of inertia
Ambient
temperature
Lubrication
Type
Degree of
Gearbox
Protection
Mounting
method
Noise
n1=3000rpm
arc/min
Nm
Nm
rpm
NM/arcm in
N
N
kg
kg・cm2
dB
CM-ABR060-003-S□-P□
60
1
3
P1(precision type)
4
P2(precision type)
7
36
64
5,000
7
1,530
765
2.1
0.09
-10~40℃
Grease
(NYOGEL
792D)
IP65
Freely
63 or less
CM-ABR060-004-S□-P□
4
48
86
CM-ABR060-005-S□-P□
5
60
108
CM-ABR060-006-S□-P□
6
55
99
CM-ABR060-007-S□-P□
7
50
90
CM-ABR060-008-S□-P□
8
45
81
CM-ABR060-009-S□-P□
9
40
72
CM-ABR060-010-S□-P□
10
40
72
CM-ABR060-015-S□-P□
15
-
-
CM-ABR060-020-S□-P□
20
-
-
CM-ABR060-025-S□-P□
2
25
P1(precision type)
6
P2(precision type)
9
60
108
1.5
0.09
CM-ABR060-030-S□-P□
30
55
99
CM-ABR060-035-S□-P□
35
50
90
CM-ABR060-040-S□-P□
40
45
81
CM-ABR060-045-S□-P□
45
40
72
CM-ABR060-050-S□-P□
50
60
108
CM-ABR060-060-S□-P□
60
55
99
CM-ABR060-070-S□-P□
70
50
90
CM-ABR060-080-S□-P□
80
45
81
CM-ABR060-090-S□-P□
90
40
72
CM-ABR060-100-S□-P□
100
40
72
Model number
Size
(designation)
Stage
Reducation ratio
Reduced
Backlash
Nominal
Output
Torque
Max.
Output
Torque
Maximum
allowable input
speed
Torsional
Rigidity
Max. Radial Load
(Applied to the
output shaft center)
Max. Axial Load
(Applied to the
output shaft center)
Approximate
weight
Mass Moments
of inertia
Ambient
temperature
Lubrication
Type
Degree of
Gearbox
Protection
Mounting
method
Noise
n1=3000rpm
arc/min
Nm
Nm
rpm
NM/arcm in
N
N
kg
kg・cm2
dB
CM-PA2042-003-S□-P□
42
1
3
8
16
28
4,500
0.9
810
405
0.7
φ≦8=0.1 / φ≦14=0.2
-10~40℃
Grease
(NYOGEL
792D)
IP65
Freely
60 or less
CM-PA2042-004-S□-P□
4
16
29
φ≦8=0.1 / φ≦14=0.2
CM-PA2042-005-S□-P□
5
15
27
φ≦8=0.1 / φ≦14=0.19
CM-PA2042-007-S□-P□
7
12
21
φ≦8=0.1 / φ≦14=0.19
CM-PA2042-009-S□-P□
9
8
14
φ≦8=0.1 / φ≦14=0.19
CM-PA2042-010-S□-P□
10
10
18
φ≦8=0.1 / φ≦14=0.19
CM-PA2042-015-S□-P□
2
15
10
15
27
φ≦8=0.1 / φ≦14=0.2
CM-PA2042-016-S□-P□
16
16
28
φ≦8=0.1 / φ≦14=0.19
CM-PA2042-020-S□-P□
20
16
28
φ≦8=0.1 / φ≦14=0.2
CM-PA2042-025-S□-P□
25
15
27
0.8
φ≦8=0.1 / φ≦14=0.19
CM-PA2042-030-S□-P□
30
15
27
φ≦8=0.1 / φ≦14=0.19
CM-PA2042-035-S□-P□
35
12
21
φ≦8=0.1 / φ≦14=0.2
CM-PA2042-040-S□-P□
40
16
28
φ≦8=0.1 / φ≦14=0.19
CM-PA2042-050-S□-P□
50
15
27
φ≦8=0.1 / φ≦14=0.19
CM-PA2042-070-S□-P□
70
12
21
φ≦8=0.1 / φ≦14=0.19
CM-PA2042-081-S□-P□
80
8
14
φ≦8=0.1 / φ≦14=0.19
CM-PA2042-100-S□-P□
100
10
18
φ≦8=0.1 / φ≦14=0.19
Model number
Size
(designation)
Stage
Reducation ratio
Reduced
Backlash
Nominal
Output
Torque
Max.
Output
Torque
Maximum
allowable input
speed
Torsional
Rigidity
Max. Radial Load
(Applied to the
output shaft center)
Max. Axial Load
(Applied to the
output shaft center)
Approximate
weight
Mass Moments
of inertia
Ambient
temperature
Lubrication
Type
Degree of
Gearbox
Protection
Mounting
method
Noise
n1=3000rpm
arc/min
Nm
Nm
rpm
NM/arcm in
N
N
kg
kg・cm2
dB
CM-PA2060-003-S□-P□
60
1
3
1
42
72
4,500
0.9
810
405
0.7
φ≦8=0.12 / φ≦14=0.22
-10~40℃
Grease
(NYOGEL
792D)
IP65
Freely
60 or less
CM-PA2060-004-S□-P□
4
42
75
φ≦8=0.1 / φ≦14=0.2
CM-PA2060-005-S□-P□
5
40
72
φ≦8=0.1 / φ≦14=0.2
CM-PA2060-007-S□-P□
7
35
63
φ≦8=0.1 / φ≦14=0.2
CM-PA2060-009-S□-P□
9
24
43
φ≦8=0.1 / φ≦14=0.2
CM-PA2060-010-S□-P□
10
27
48
φ≦8=0.1 / φ≦14=0.2
CM-PA2060-015-S□-P□
2
15
10
40
72
φ≦8=0.1 / φ≦14=0.2
CM-PA2060-016-S□-P□
16
42
75
φ≦8=0.1 / φ≦14=0.2
CM-PA2060-020-S□-P□
20
42
75
φ≦8=0.1 / φ≦14=0.2
CM-PA2060-025-S□-P□
25
40
72
0.8
φ≦8=0.1 / φ≦14=0.2
CM-PA2060-030-S□-P□
30
40
72
φ≦8=0.1 / φ≦14=0.2
CM-PA2060-035-S□-P□
35
35
63
φ≦8=0.1 / φ≦14=0.2
CM-PA2060-040-S□-P□
40
43
77
φ≦8=0.1 / φ≦14=0.2
CM-PA2060-050-S□-P□
50
40
72
φ≦8=0.1 / φ≦14=0.2
CM-PA2060-070-S□-P□
70
35
63
φ≦8=0.1 / φ≦14=0.2
CM-PA2060-081-S□-P□
81
24
43
φ≦8=0.1 / φ≦14=0.2
CM-PA2060-100-S□-P□
100
27
48
φ≦8=0.1 / φ≦14=0.2